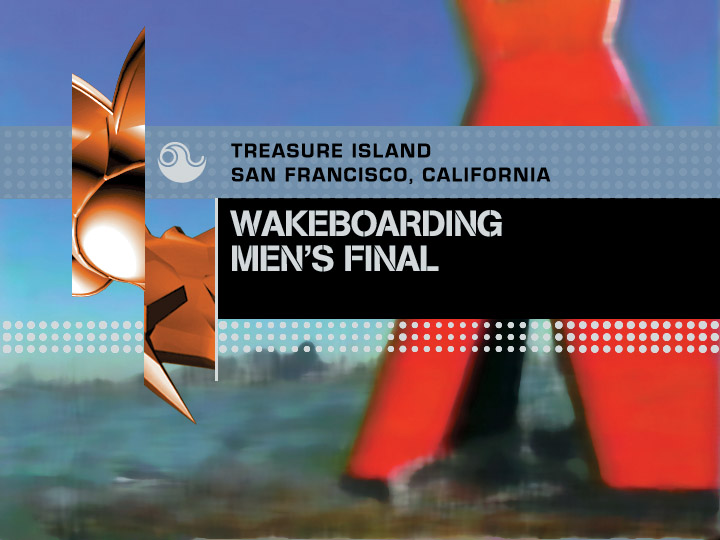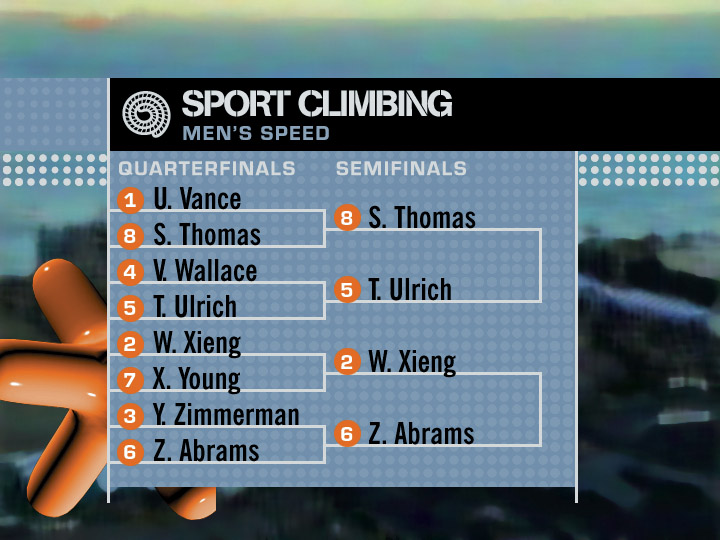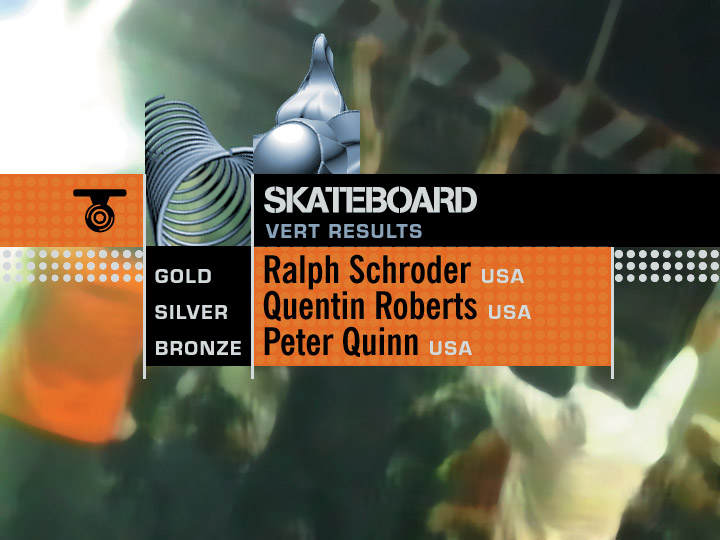 ESPN X Games
On-Air Identity
PRODUCED AT FUEL DESIGN, 1998—2001
I first only got hired to draw a few icons, but soon found myself co-art directing the entire show for three years (along with Vanessa Marzaroli). The engagement included the production of large packages for both Summer and Winter games, as well as on-site art direction during the events. I went to the games in San Francisco, Philadelphia and Vermont, collecting some fond memories of doing (quasi) live television: Designing something and seeing it on air a couple of hours later is quite gratifying.
In the design, a set of playful icons makes light fun of Olympic icons, and the stencil type and the halftone patterns provide a subtle hint to the heritage of street culture resident in most action sports. The 3D elements are a parody of flying chrome logos, then and now a clichéd ingredient in broadcast graphics. Here, the 3D objects seem to be damaged and shown through faulty mattes, a strategy devised as a visual parallel to the phenomenon of the "strange sound" in rock music: art made by ignoring or even perverting the purpose of guitar amps, turntables or multitrack machines — in our case, we misused 3D software.
The design won an Emmy Award in 2000.
------------------------------

Client: ESPN, Bristol, Connecticut
Production Company: Fuel Design, Santa Monica [defunct]/Fuel-Razorfish, Santa Monica [defunct]
Creative Director: Seth Epstein
Art Director/Designer: Jens Gehlhaar
Art Director: Vanessa Marzaroli
Designer: Jamandru Reynolds
Animators: Craig Tollifson, Ehren Addis, Brian Yarnell, Lenie Ramos-Ortegaso
Producer: Casey Steele

Awards:
National Academy of Television Arts and Sciences, 2000 (Emmy)
BDA Design Awards, 2001
BDA Design Awards, 2002
For more sports graphics:
Fuel TV Identity 2003
Fuel TV Identity 2010
ESPN Insert Graphics